Lucky
Written by Jane Gerver
Illustrated by Jacqueline Rogers
Reviewed by J.B. (age 8)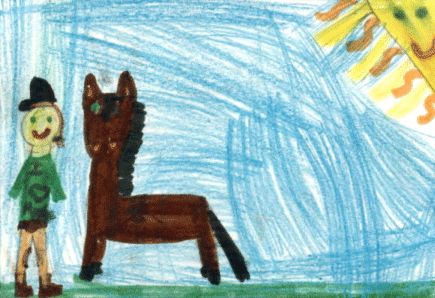 Have you ever stopped something? Amy used to take riding lessons with her horse Lucky, but she stopped. One night Amy's sister Michele said there was a horse show coming up. Amy did not want to do it. But the next day, when Amy saw the list for the show she saw her name on the list. Michele says she can do it with a little help from Michele's trainer Paula. Well, what happens next? You'll have to read the book to find out!
I love this book because it has horses in it. I love horses! I like the illustrations because they were all were realistic like when they braided Lucky's mane it's like a real horses mane. I like that in the book Amy never gives up like when Lucky refuses a jump. This book is a part of a series called Breyer Stablemates about horses and there riders. This book makes me happy because Amy trusts Lucky and Lucky trusts Amy. I can relate to this book because I horseback ride and do shows too. I liked the characters they seemed really nice.
I recommend this book if you like horses because I love this book and I love horses. I think this book is a good book for new readers who are more advanced.