A Dog's Life
Written by Ann M. Martin
Reviewed by J.K. (age 8)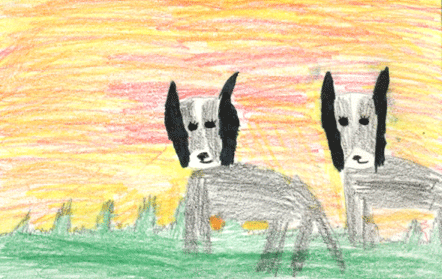 Have you ever been on an adventure? Squirrel and Bone have. Squirrel and Bone are two dogs who face a series of problems with life because there mom disappeared. So they decided to go to find someone who loves them. Adventure is normal for Squirrel and Bone because they have traveled to many places. Then, "Oh No!" Squirrel is on his own. Bone got separated because a lady took him because he was cuter than Squirrel. Squirrel is making friends and facing owners that can be cruel but nice. Will Squirrel find an owner or will he be a stray for life? Read the book to find out.
I liked this book because it was sad for some parts but it had a surprise ending. My favorite part was when Squirrel and Moon, a friend, are together because Moon is keeping Squirrel company. Squirrel's brother Bone reminds me of my brother. I look up to him just like Squirrel looks up to her brother, Bone. All of Squirrel's owners turn against him in some sort of way but one owner stayed with her. This book is unique because you take an adventure to different places with a stray and see what it's like. This book reminds me of the Diary of a Wimpy Kid series even though Squirrel is an animal. Both books tell about their life. This is a good book. It will capture your heart.
I recommend this book to people who like dogs and adventures. I think the story will interest you because the way the author writes it and describes the events. It also makes you wonder what comes next. Boys and girls would like this book because it has a good mind picture. I recommend this book to kids, ages 6 to 10. This book will make you smile and cheer for the characters. Kids can relate to the characters even though they are animals they act just like regular kids.