Because of Winn-Dixie
Written by Kate DiCamillo
Reviewed by I.G. (age 8)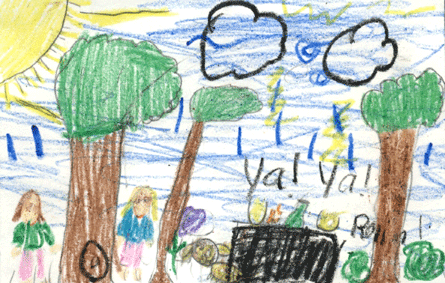 Have you ever read a book about a girl and a dog? In the book "Because of Winn-Dixie" this girl named Opal moves to a new town and leaves all her friends behind. But when she was getting groceries for her dad a stray dog comes in Winn-Dixie (the grocery store) knocking all the food off the shelves. The owner of the store wants the owner of the dog to speak up. While Opal claims the dog is hers the only thing that pops in her head is "Winn-Dixie" so she says that she is the owner of the dog named "Winn-Dixie". She brings the stray dog home asking to keep it. Her dad, the preacher, says she can keep it. When she meets the dog her whole life gets turned around because that dog made her meet all these different people. Like Ms. Franny, Gloria Dump, Sweetie Pie, Otis, and the Dewberry boys, Stevie and Dunlap all because of Winn-Dixie!! Read the book to find out what happens next!!!!!!
This book reminds me of me and my dog, Bode, because we would meet new friends and go on adventures together. One of my favorite parts is when Opal and her dad, (the Preacher), went looking for Winn-Dixie because he got scared of the storm when Opal and her friends had a party. It made me almost cry. I was so happy when Opal's friends found Winn-Dixie under a bed in Gloria Dump's house. I like this book because it is different from the other books but unique. It makes me feel scared, sad and relieved at all different parts of the book. I think the pace of the book is sad and leaves you wondering but it is slow and fast at the same time. I wonder if there is another book of Because of Winn-Dixie, what it will be about and what will happen next?
I recommend this book because it is interesting, makes you wonder and captures you in parts. If you like dogs you'll definitely like this book. If you don't like dogs then you will, but you'll like this book because a girl moves to a new town, growing up and is making new friends. My favorite part is when Opal and Winn-Dixie go the W. Block Memorial Library every time to get books and hear great stories from Mrs. Franny. I like Mrs. Franny's stories and I know you will too. If you like sad, tragic, happy stories this is the book for you!!!! I recommend this book for kids in 1st grade and up.