Big Nate Strikes Again
Written by Lincoln Pierce
Reviewed by S.G. (age 9)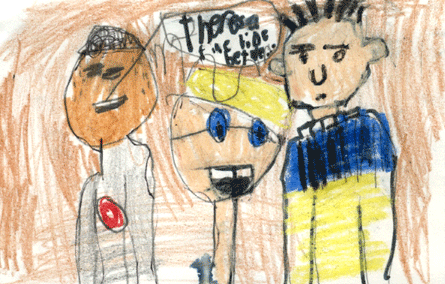 Nate's average grade for every subject is an F-. His two friends Teddy and Francis are his crutches through middle school. Everything's normal in P.S. 38 until Nate gets paired up with his arch nemesis…Gina, for his Ben Franklin project and yet again, he also has to lead his fleece ball team the "Cuddle Kittens" to victory. Nate doesn't know what to do. Find out how Nate survives by reading Big Nate strikes again.
I think this book is funny. Like how Nate reacts to things. I liked the illustrations because it had a lot of funny facial expressions. My favorite part in this book was when Nate was late for the captains' meeting because Gina named his team the Cuddle Kittens! My favorite characters in this book are Teddy, Francis, and Nate because Teddy and Francis say, "It's a fine line between hate and love." when Nate gets mad at Gina. Lincoln Pierce always has a sense of humor because he'll change the picture when Nate says "Ya, Right" to make the picture look humerous.
I'd recommend this book to someone who is flunking middle school because this book will have the answers. I'd also recommend this book for a break because it's in cartoon format.