Mystery on October Road
Written by Alison Cragin Herzig and Jane Lawrence Mali
Reviewed by A.L.B. (age 9)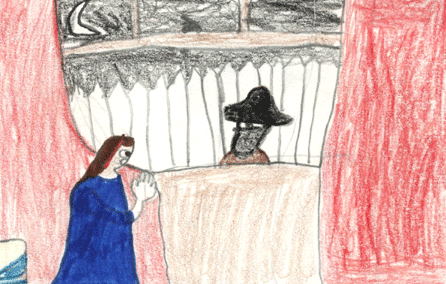 A girl named Casey likes to hang out with her very kind friend named Benny. In the book they got a new neighbor. His name is John Smith. John always wears a mask and a slouchy hat. Two huge animals always follow him. Read the book to find out what happens.
I like the book Mystery on October Road because I like mysteries. My favorite part was when Benny sprained his leg and John Smith helped him because it kept me in suspense. I liked the character Casey because she was kind and helped Benny. This book is similar to "When the Ghost Comes Calling" because they are both mysteries. I think the author's writing style is that she likes to write mysteries and scary books. When I read this book I felt like I never wanted it to end because I really got into the book.
I recommend this book to people who like mysteries. I think you should read other books by Alison Cragin Herzig and Jane Lawrence Mali. I think they work well with each other to make the book really terrific.