The Mystery on Cabin Island
Written by Franklin Dixon
Reviewed by R.F. (age 9)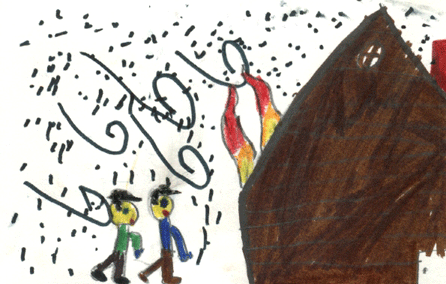 Two teenagers named Frank and Joe Hardy get to stay on an island for a month. They get to the island by an ice boat. A rich man named Mr. Jefferson let them stay on the island because Frank and Joe got Mr. Jefferson's car back from car thieves. But when three people are lurking around on the island Frank and Joe are determined to find out why. Find out what happens in the Mystery of Cabin Island.
I liked this book very much because I love mysteries and this book has a lot of mystery. My favorite part is when the cabin that Frank and Joe are staying in gets torn apart by a blizzard when one of the prowlers is in the cabin! Frank, Joe and the prowler are forced to fight for survival. I liked this part because I got very excited and wanted to read more. I think this part will excite other people who read this book. This book reminded me of Tower Treasure, the first in the series of 60 books, because in both books there is a lot of excitment and mystery.
I recommend this book to people who like to learn about detectives and what they do. I would also recommend this book to people who like mystery. This book is one of my favorite books and I think other people will like this book too.