Charlie and the Great Glass Elevator
Written by Roald Dahl
Illustrated by Joseph Schindlman
Reviewed by J.V. (age 9)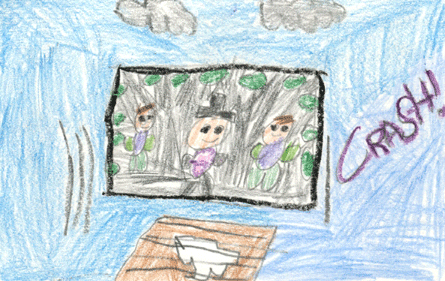 This book is about Charlie, Mr. Wonka, Grandpa Joe, Grandma Josephine, Grandma Georgina, and Grandpa George who go in a glass elevator and the elevator flies to outer space. Charlie and the crew find Knids which are monsters that eat you. But lucky for them the great glass elevator is Knid proof. In outer space there is a space ship that thinks the elevator and Charlie and his crew are bad guys. So Charlie and his crew go in a space hotel and when they get into the room on a speaker the people in the spaceship say they were coming so they went back in the elevator and went down to earth. Then the elevator hits the ground and breaks! Read the book to find out what happens next.
My favorite part of this book is when Charlie's grandma's eats Wonka Vite so they end up in Minus Land. I like this part because it makes me want to read on. I like this book because I like funny books. My favorite character in the book is Charlie because in this book he is really serious and honest and it makes me think that it sort of gets to be a mystery.
I recommend this book to people who like funny and mystery books. Some characters are really funny. Roald Dahl also includes lots of detail in his setting so watch out for that.