If Wishes Were Horses
Written by Sibley Miller
Illustrated by Tara Larsen Chang and Joe Gershman
Reviewed by J.D. (age 8)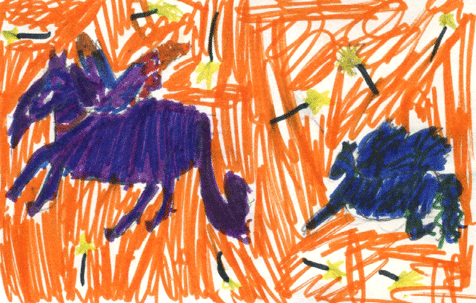 One day, a girl named Leanna was picking dandelions. She picked a big puffy one and she blew it hard and four of the flakes opened up to little, tiny, flying horses. As they were flying around they saw other horses. "They were huge!" said Kona. The horses started looking around and at that point they noticed that they had stuff floating around them. Kona had flowers, Sirocco had butterflies, Sumatra had ribbons and Brisa had diamonds. They all liked to explore but one day they all got into trouble. Sumatra got pinned to a tree, Sirocco lost some of her butterflies and Brisa and her diamonds got stuck in a cloud. Kona smelled carrot cake and wanted some, so she took a bite because she was tiny and when she took a bite the cake had flowers all over it so it became covered. Read the book if you want to find out the end.
I think this book has good descriptions and illustrations. My favorite part is when "Brisa gets stuck in a cloud and she loses her diamonds" because the author made it feel like it was happening to you. I liked the characters because they are horses and horses are my favorite animal. I think the illustrations have awesome details like when Kona smelled carrot cake and took a bite and realized that whatever she touched flowers would appear. I like how the author organized the series. Every book is about a different horse.
If you like funny things this is the book for you. I recommend this book because it has good descriptions and setting. If you love horses then you will enjoy this book.