Dying to Meet You
Written by Kate Klise
Illustrated by Sarah Klise
Reviewed by A.K. (age 9)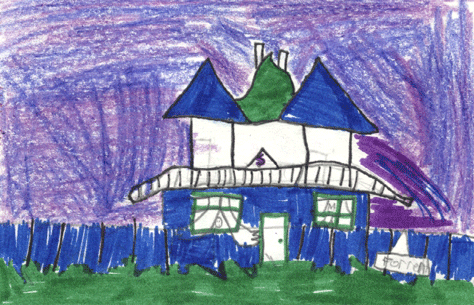 This book isn't really your typical ghost story. An author named Ignatius B. Grumply rented a house for the summer to write his next ghost tamer book. He rented the house from a woman named Anita $ale. He hasn't written a book in 20 years because he has writer's block. The house he ends up renting is a broken down, rickety old house that is falling apart. Whoever rents this house has to take care of Seymour Hope (the owner's son) and his cat, Shadow. Ignatius is highly allergic to cats. The person who built the house died 97 years before the story begins. Her name is Olive C. Spence. She is now haunting the house that Ignatius rented. What does Ignatius do with this crazy old house? Does he ever write a book again? Read the story to find out!
I liked this book because it was really a unique ghost story because Olive (the ghost) is helping Ignatius write his next ghost tamer book! My favorite character is Olive because she is not really a scary ghost and she is unpredictable. Something special about the book is the boy Seymour and Olive write letters back and forth to each other. Seymour is also the illustrator of his ghost tamer book. The whole book is written in letter form.
I recommend this book to kids who like ghost stories but with a little twist. Also, kids who like books written in letter form would love this book!