Mr. Sunny is Funny
Written by Dan Gutman
Illustrated by Jim Pailllot
Reviewed by D.K. (age 9)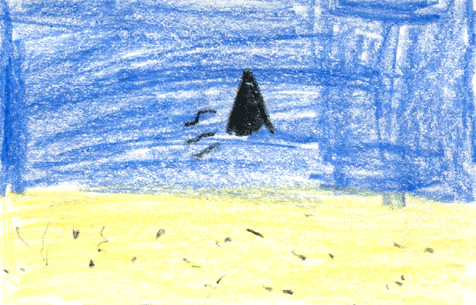 School's out and A.J. and his pals rented a beach house. But then little miss know-it-all (Andrea) comes along and ruins all the fun. Mr. Sunny is building his "sanderpiece" for the sandcastle contest. Just to let you know, Mr. Sunny is a lifeguard. Then a shark starts swimming around the beach and Mr. Sunny chases the shark away but when he's doing that Andrea starts drowning. If you want to find out what happens after that you're going to have to read the book.
I think the book is funny and exciting because A.J. thinks Nobel prizes are for people who have no bells. My favorite character is Mr. Granite because he does crazy things like swims from Australia to the U.S. and survives without air under sand. My favorite part is when people mistake Mr. Granite for a shark because when he was swimming in the water he had a shark fin.
I recommend Mr. Sunny is Funny to people who like to laugh. I think this book is great for all ages. I like this book because it is crazy fiction and it makes you not want to stop reading. I don't just recommend Mr. Sunny is Funny, I recommend the entire My Weird School series.