Frindle
Written by Andrew Clements
Illustrated by Brian Selznick
Reviewed by E.B. (age 9)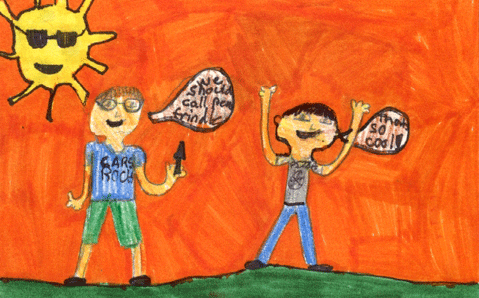 Frindle is a funny, silly, exciting book about a fun loving boy named Nick. Nick loves to have fun. One time he turned his classroom into a beach. Nick got half of his class to make cardboard palm trees and he got the other half to get ten lbs. of sand. When his teacher came into the room she said, "What a colorful class". The main plot of the book is about when Nick gets tired of the name pen. He says, "Why can't we call pens frindle?" All of his class mates love it and they told the whole school and even the principal to call pens frindle. All through the school year Nick and his friends said frindle instead of pen.
I loved this book because it's so funny and exciting like when Nick turned the class into an igloo. My favorite character is Nick because he is very humorous and he loves to have fun. I love this character because I love to have fun and make jokes. This book is not like any thing I've ever read before because it's about renaming a pen and because nobody knows if Nick is a bad or good person. My favorite part in this book is when Nick tried pass a note to a girl he liked and this weird boy in his class got it and nick got so embarrassed he ran into the girls' bathroom.
I recommend this book to kids all around the world who love exiting and silly books. When you read this book you'll want to read it over and over again. ENJOY!