The Princess and the Pizza
Written by Mary Jane Auch
Reviewed by E.L. (age 8)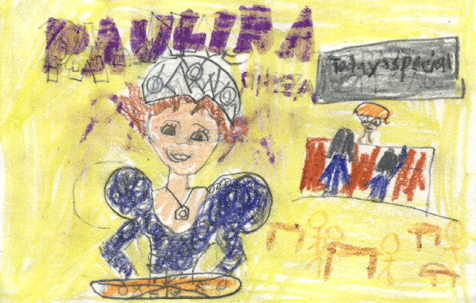 Do you know who invented pizza? Did you know it was by accident?
Princess Paulina wanted a job. Her dad just quit being king. She missed princessing. She heard about a contest to marry prince Drubert. "This is my chance to get back to princesssing!" She opened up her box of ex-princess stuff, wiped the dust off her best gown, put her tiara on and set off to the contest. Paulina didn't expect much competition. There was not a princess in miles but she was 1 out of 12!!!
I like this book because it takes fantasy and mixes it with real life. It is a really good book When you pick up the book you won't want to stop because Princess Paulina's dad just quit being king and you will want to know what happens.
I think that if you looked at the illustrations you can understand most of the book. Queen Zelda reminds me of my sister because she yells a lot and is really mean and so is my sister. The book is unique. It's not alike anything I have ever read before. It takes a princess story and twists it around.
Most people who like fairy tales and funny stories will love this book. I think all ages would like this book because it is nice to look at and has a happy ending.