Baby Sitter's Club: Mary Anne Saves the Day
Written by Ann M Martin
Reviewed by G.I. (age 8)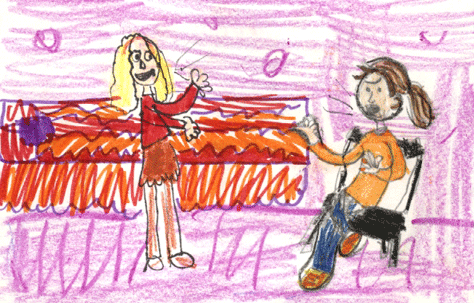 A group of girls named Maryanne, Stacey, Kristy and Claudia are all in a club called the baby-sitter's club. The babysitter's club got together because they liked to babysit, and anyone who needs a babysitter can call them. In this book, they all wanted to take this one job because a family in the neighborhood had a new baby. Kristy took the job and did not ask anybody first. The other members got mad at Kristy and then they started getting mad at everybody and got all in a big fight. If you want to find out what happens read the book.
I like this book because I liked the characters in the book because one of the characters names was Claudia and she kept candy all over her room and no one knew about it. I liked that because when she feels that she wants to eat candy she just finds some in her room. I also like the illustrations because there were a lot of details. But, I did not like how the illustrations were black and white because I would like to see all the details in color. I also liked the book because it's sometimes funny and sometimes not.
I recommend this book to kids that like friendship drama and very exciting books. I think kids would like to read about the characters because they are all very unique and you always find one character that is kind of like you!