Beast Quest: Amulet of Avantia
Written by Adam Blade
Illustrated by Ezra Tucker
Reviewed by D.L. (age 8)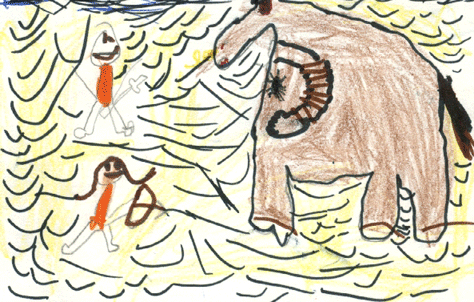 This book is about a boy named Tom and a girl named Elena. They are on a quest to get the Amulet of Avantia. The Amulet is a necklace which can turn someone from being dead back to being alive. Tom and Elena need to collect the 6 pieces of the shattered Amulet to help Tom's father come back to life because he is a ghost. Read to find out what will happen.
I like this book because it has exciting parts such as when storm (a horse) passed through Equinus (a Centar). The book has some interesting characters, like Equinus who I just mentioned. I like Equinus because he can take both a solid and a ghost form. Something special about the book is the ghost map. The ghost map shows the characters Tom and Elena how to find the ghosts they are looking for.
I recommend this book for people who like adventure. It is a good series with 24 books. You will need to read this series in order. It is good for 1st, 2nd, and 3rd graders.