Betty Doll
Written by Patricia Polacco
Illustrated by Patricia Polacco
Reviewed by Laurel F. (age 6)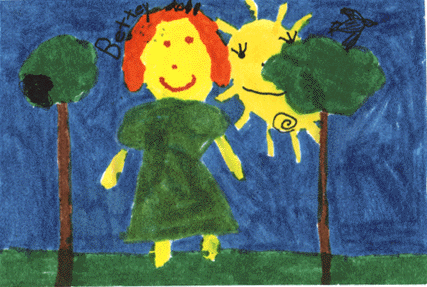 This story is about Patricia Polacco's mama. Betty Doll is a doll that was past on for generations. Betty doll gets lost when Patricia's mom is in a snowstorm. The storm was so bad that she didn't notice that she dropped Betty Doll. The snow kept falling down. Patricia's mama and her uncle found a bridge. They went under it. They shut their eyes as tightly as they could. All of the sudden a car came over the bridge. They were too tired to move. Then Patricia's mama's cousin said, "I'll go to look for help." He went to look for help. When he returned he said, "Guess what?" They said, "What?" He handed her the doll. Patricia's mom said, "Betty Doll! Where did you find it?" He said, "I found it on the side of the road." After the storm she got very sick. She had to spend the whole entire summer in bed.
I liked it when Patricia's mom said, "Betty Doll!" I liked that part because it was exciting. I liked Patricia's mom because she was pretty. The book reminds me of my nana.
I recommend this book to people who like dolls. You should read Betty Doll, because Patricia Polacco took time to write it.