The Tale of Despereaux
Written by Kate DiCamillo
Illustrated by Timothy Basil Ering
Reviewed by S.S. (age 9)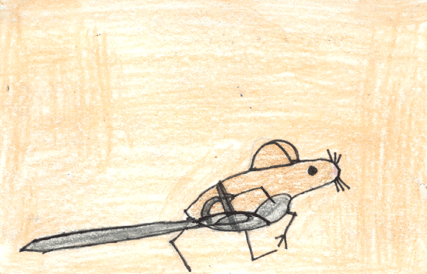 One day a little mouse was born. He was born with his eyes wide open. That is not normal for a baby mouse. His parents named him Despereaux. Right away all of Despereaux's family knew he was not normal. Despereaux's brother, Furlough taught Despereaux to chew the pages of books instead, he read the pages. Then Despereaux did the worst thing that mice can do, he talked to a human. Despereaux's brother found out and told their parents. Despereaux gets thrown into the castle dungeon. Read the book to find out what happens next!
This book has a very important lesson. If you are different from other people you should not let them get you down. Just be yourself. I thought this book was a really long, detailed book. It really had very powerful words, like when it said that Despereaux had read the beginning of a book it had said "Once upon a time". He really loved those words and kept repeating it. I loved this book because sometimes the author wrote something that made me stop and think about what it might feel like to be in Despereaux's position.
I recommend this book to people who like award winning books because this book won a Newberry medal. This book is a very happy book because Despereaux gets put into some very difficult positions but is capable of overcoming them. When you read this book you cannot help but smile!