Thump, Quack, Moo: A Whacky Adventure
Written by Doreen Cronin
Illustrated by Betsy Lewin
Reviewed by C.H. (age 9)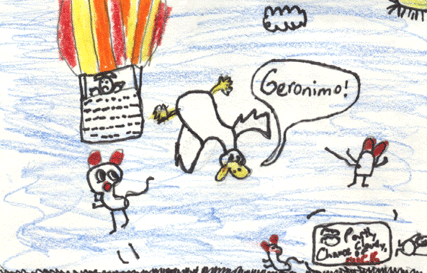 Have you ever not liked something but had to do it? Well, this book is about a duck that is getting ready for a corn maze festival. He does not like it because it is not all about him. He wants to be full of attention. First, he makes the ticket booth way too small. Then, he makes the cows paint a huge picture of him on the barn. Then, he does another really bad thing, but I guess you will have to read the book to find out.
I liked this book because it is funny when the duck keeps changing things about the corn maze festival. My favorite part was when duck makes the cows paint him on the barn. I liked this part of the story because it is super funny and it made me laugh so hard.
I recommend this book to people who like animals because almost all of the characters in this book are animals. I recommend this book to second and third graders because it is not hard to read, but it is also not too easy. Also, if you like corn, this is the book for you. When you read the sentence, "Duck and his farm friends are getting ready for the corn festival," will you want to read this or not?