My Life as a Book
Written by Janet Tarjazian
Reviewed by L.A. (age 8)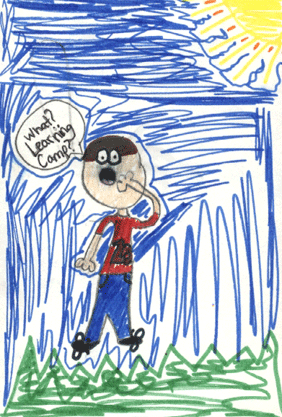 Do you like adventures? Well if you do this is the right book for you. It is about an adventurous boy named Derek. All he wants is a great summer but his parents totally ignore him because his parents are mean. For the first few weeks of summer he gets to play with his friends and then his family goes to Martha's Vineyard. When the few weeks are over his parents sent him to learning camp. That especially ruins Derek's summer. Read this book to find out about Derek's horrible summer.
I like this book because it reminds me of myself because Derek and I share personality traits. I think this because he is adventurous like me and he loves to draw and sketch. As I read this book, I felt sad and happy. I felt sad because Derek's summer was a disaster but I felt happy for him because the summer finally turns out great. This book relates to me because one of my summers was terrible too. This book was so interesting that I could not put it down.
I recommend this book to second graders and up because there are some tricky words. If you don't understand every word you won't understand the book at all. I also recommend this book to kids who like adventures and surprises because it has a lot of surprising things and adventurous people such as Derek, his mom, and his dad.