The Girl Who Could Fly
Written by Victoria Forester
Reviewed by K.N.W. (age 9)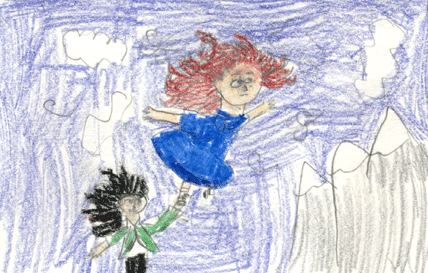 Piper McCloud is not your ordinary girl. Ever since she was born, Piper has been able to float, and now she wants to teach herself to fly. But when she flies to catch a ball in a baseball game at a local Fourth of July picnic, with all of the citizens of Lowland County watching, Dr. Letitia Hellion comes to take Piper away to I.N.S.A.N.E, a private institution, where Piper meets other kids that have special powers like her. But what Piper doesn't know is that the true objective of I.N.S.A.N.E is much more sinister than it seems to be.
I really liked this book because when Piper and all her friends at I.N.S.A.N.E find out that Dr. Hellion is determined to make everything that passes through her doors normal, they have to work through their differences and work together to escape from an institute which they thought was safe for them, but it turns out it may be very dangerous. My favorite character is Piper, because she is very energetic and bouncy. The author's writing style is easy to read, not too fancy, not too simple. An example is when Conrad said, "I would have thought that was obvious even to you by now". This book kept me on the edge of my seat because it had many surprising twists and turns and I was always wondering what was going to happen next.
I would recommend this book to 3rd and 4th graders who enjoy adventure stories with many unexpected twists and turns. This book is sort of long but not extremely hard to read. This was a really good book, and I'm sure anyone who reads it will want to read it again!