Coach Hyatt is a Riot
Written by Dan Gutman
Illustrated by Jim Paillot
Reviewed by M.A. (age 8)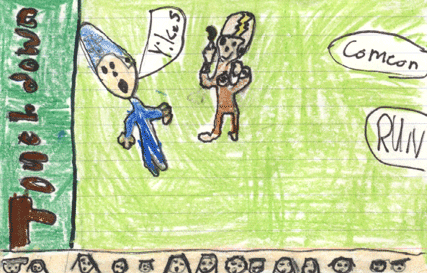 A.J., a 3rd grader, hates school. He would rather eat a live bug sandwich! A.J. loves Pee Wee football more than anything and way more than the super annoying smarty pants Andrea Young. Emily and Andrea are horrible cheer leaders. Last year, A.J.'s football team stunk. Maybe it was because their old Moose coach Mr. Boozer. Everybody on the team thought that the new coach would be awesome and yet the coach was a GIRL! Coach Hyatt made them pick up a car. And they did it! A.J. is so excited for his first game. As the sharks come out, A.J. and his team stare at the humongous Sharks. They had muscles on their muscles. Will the Moose beat these Giant Sharks or will they lose horribly? Read this book to find out.
I really liked this book because at the end it was really funny. Somehow an inflatable moose lands on Emily! Emily is the same in every book. She is always a cry baby. My brother Noah is like Emily. Whenever I beat him in basketball he starts crying. All the books in the series are the same because something bad always happens to Emily. My favorite part was when Wyatt Hyatt picked his nose to score a touchdown.
I recommend this book to people who like really funny sports books. You do not have to like sports to like this book you can read it if you like surprises. This book is so funny you could read it all day long. People who are comfortable with reading books for 2nd to 3rd graders would love this book. I think this book is a easy read because it has a clear font.