Judy Moody Was in a Mood. Not a Good Mood. A Bad Mood.
Written by Megan McDonald
Illustrated by Peter Reynolds
Reviewed by Brooke D (age 8)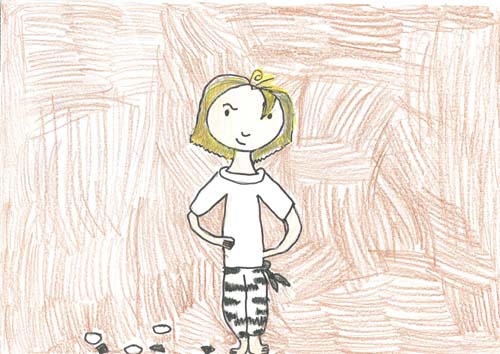 In this book, Judy Moody is starting a new school year. Judy did not want to give up summer. After Judy got ready for school, she grabbed her backpack and headed out the door. But then her brother, Stink, yelled, "Hey wait for me!" Stink always wants Judy to wait for him. When Judy and Stink got to the bus stop, she saw her best friend Rocky. When Judy got to school she met her new teacher Judy's new teacher assigned a project. Will Judy finish her project before it is due? Who is Judy's new teacher? Who will Judy sit next to? Read this book to find out.
I like how the author wrote this book because I like the characters in the book. They make me laugh like when Judy pranked her brother Stink with a fake hand. I like Judy the best because I think she is funny. It was cool when Judy smashed a rock and moon dust exploded out of it. And I like Stink too, because he is funny, too. One funny thing he did was get dressed up by being wrapped in a red and white table cloth. The part that I didn't like was when Judy told Stink to not touch her Heda get Beta doll when she got a drink. When she came back Stink was touching her Heda get Beta doll. So then I wished Stink would have listened to Judy.
I recommend this book to kids from second grade to fourth grade. Also, people who like funny books will like this book.