Lucy on the Loose
Written by Helen Cooper
Illustrated by Amanda Harvey
Reviewed by Amanda S (age 9)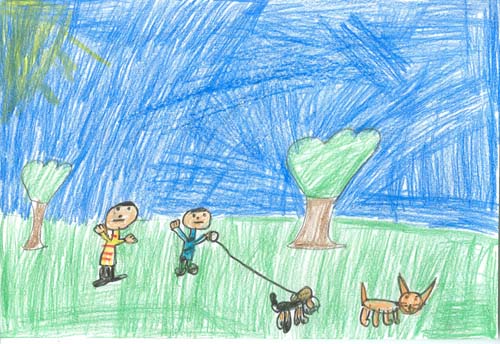 In this amazing story, Lucy on the Loose, Lucy chases a cat named Tabby. Lucy is Bobby's dog. Lucy is a playful dog. Tabby is Mrs. Agatha Adams cat. Tabby is a happy cat. Lucy chases Tabby all the way to the baseball field. Who will find Lucy and Tabby at the baseball field? Read the book to find out.
I like this book because it reminds me of when my cousin was holding his dog's leash, he let go of it. He ran away, so we went to look for him. In the book, Lucy runs away and Bobby and Sean go look for Lucy. I like the book because Bobby is 9 and I am 9, too. That helps me understand the character. I also like the book because it is funny. In the book Bobby and Sean go to a store to get something to eat and they see hotdogs hanging from the ceiling. I thought that was that was so funny and it made me laugh.
I recommend that people who like joyful stories would like this book. I think this book would be good for 7 and 8 year olds and older. If you like fiction you will enjoy this book.