I Survived - The Sinking of the Titanic, 1912
Written by Lauren Tarshis
Illustrated by Scott Dawson
Reviewed by Amaru O (age 8)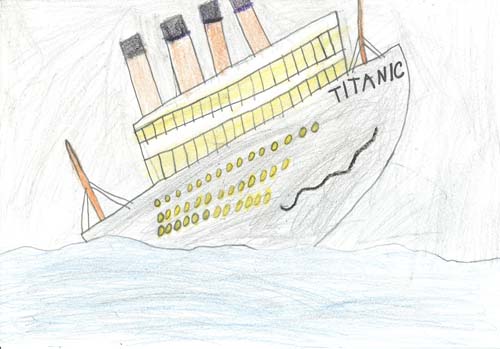 In this terrifying historical novel, I Survived the Sinking of the Titanic, 1912, George, a passenger, Phoebe, his sister and Aunt Daisy, his aunt, are vacationing on the Titanic and having a great time. George is told that the Titanic is unsinkable, but when the ship starts to sink, he is terrified! Will he survive this tragedy he will never forget? Read this book to find out!
I like how the author tells what actually happened on the Titanic. For example, the author told that only about 700 people actually made it out of the water. Also, she told how the ship hit an iceberg and sank. I also like how the characters were acting when the ship sank. For example, when the ship was sinking, the author said George projected a calm image even though he was scared straight. And Phoebe and Aunt Daisy left on another lifeboat but Phoebe hesitated because she wanted to go with George. I didn't like that the author said that George heard everybody screaming. In the story, it said George didn't like the screaming because the author said he looked at the stars and ignored the people screaming. I didn't like the part with the screaming because screaming is something very scary to hear.
If you like non-fiction and tragedies, I recommend this book to you because this is a tragedy – it is the Titanic. I think people 7 to 9 years old should read this because it is sort of scary and has some challenging words.