Tales from the Odyssey - Return to Ithaca
Written by Mary Pope Osborne
Illustrated by Troy Howell
Reviewed by Elvis O (age 10)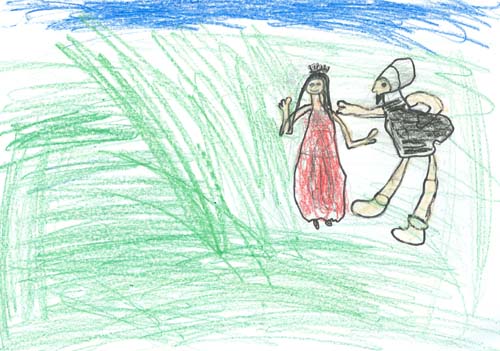 In this awesome myth, Odysseus ends up on the shores of another strange island. His wife, Penelope, is in Ithaca scared for their son Telemachus. All the men who wanted to marry her are planning to murder Telemachus since she wouldn't marry them. Telemachus has sailed away to search for his father after king Alcihous tells him that Odysseus is on a strange island. Read this book to find out if Odysseus, Telemachus, and Penelope get back together.
I thought the story was cool because there was a one eyed Cyclops and monster. I liked when the men made the one eyed Cyclops blind and when the Cyclops smashed three people with two giant rocks. I also liked when the three headed monster started smashing Odysseus's boat and the people fought her. I like the action because the characters have swords and arrows and like reading about battles. There are lots of battles in this book. I love the writing style because some letters are in cursive and I like cursive. I like cursive because it makes the words interesting on the page. I like that there are no illustrations in the story because it makes me use my imagination.
I recommend this book to people who like adventures and action. People 8 years and up should read this book. It was interesting how the one eyed monster smashed the people, but that could scare younger kids. There is a lot of action and many adventures.