Creepella Von Cacklefur - The Thirteen Ghosts
Written by Geronimo Stilton
Reviewed by Natalie P (age 8)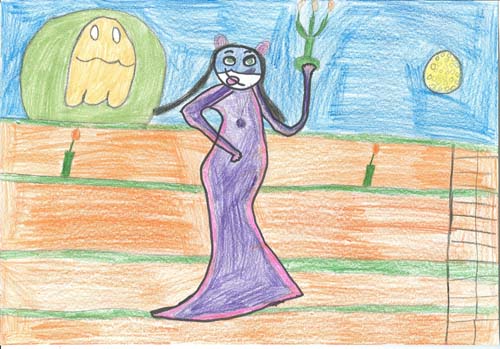 In this creepy story, The Thirteen Ghosts, Geronimo Stilton is a newspaper publisher at The Rodents Gazette the most famous newspaper on New Mouse Island! Geronimo has a friend Creepella Von Cacklefur who's into spooky things. I bet you are wondering what kind of pet Creepella has. It is a bat named Bitewing. Geronimo and Creepella are trying to get into Squeakspeare Mansion to interview some ghosts. Billy the owner of Squeakspeare Mansion says no! Bill is too scared to go down into his own basement so Creepella and her niece Shivereen have to go in first. The ghosts say their basement is called the dizzy room. Will Creepella ever get to interview the ghosts? Find out in this awesome book.
I really like the character Geronimo Stilton because he is always on the run looking for scoops. One scoop he was looking for was finding out what kind of game the ghosts play Another reason I like Geronimo is because he is really nice and his sister Thea is just like Geronimo. I like how the author wrote this book. One thing he did was for some interesting words he colored them big bold letters. One connection that Creepella and I have is that Creepella loves Halloween and I love it too! The reason I love Halloween is because of the candy and I like walking to people's doors saying Trick or Treat. A connection that Geronimo and I have is that Geronimo does not like spooky houses and I don't like spooky houses either. In the story Geronimo went to Squeakspeare Mansion and he was so scared he almost went back in his car.
I recommend this book to people in grade three through grade five who like scary books. One scary thing in the story is when Creepella comes out from a graveyard in the fog and Geronimo gets freaked out so his fur stands on end. If you like mysteries and fiction this book is for you. There are many books in this series. You can find these books at your local library.