Magic Tree House: Sunset of the Sabertooth
Written by Mary Pope Osborne
Illustrated by Sal Murdocca
Reviewed by Abby A. (age 8)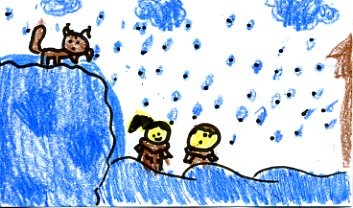 Jack and Annie travel back in time to the Ice Age to find the "M" thing for Morgan. The first people they see are the Neanderthals. Then, they see a cave and they go in and find bones. A bear starts chasing them out of the cave and they run out into the cold, snowy land. After that, a Saber tooth tiger starts to chase them, because he is hungry and he chases them until Jack and Annie fall into a trap to catch the tiger! Read the book and find out what happens next.
My favorite part was when the Neanderthal helps them. I didn't like the Saber tooth tiger because he was mean, but I like Annie because she is adventurous, like me! This is like other Magic Tree House books because they always travel to a place in the book. They also always have to do something for Morgan like solve riddles or find things.
I really like the illustrations. They are pencil sketches which show a lot of detail about the characters and the setting. My favorite illustration shows the mountains, snow, and Jack and Annie dressed in bathing suits!
I have read eighteen Magic Tree House Books, and this is one of my favorites. This book was exciting because the Saber tooth tiger was chasing Jack and Annie. It was very suspenseful! I recommend this book to adventurous people.
This book was great. It was exciting and fun and I really do read them in my own tree house. Magic Tree House books are awesome!