Nancy Drew: The clue of the old stagecoach
Written by Carolyn Keene
Illustrated by Carolyn Keene
Reviewed by Divya K. (age 8)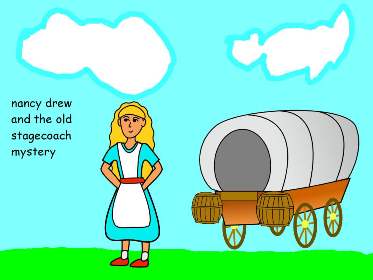 This book is about Nancy, Bess, and George solving a mystery about a stagecoach that once belonged to an uncle who passed away. His daughter wanted Nancy, Bess, and George to help find it. But wait, two others are trying to solve the stagecoach mystery too. Read this book to see who solves it first and how they solve it.
My favorite part was when Nancy, Bess, and George were driving in a car and a bear came up to them. George gave out a earsplitting scream. I liked this part because the bear was trying to tell George something but he was scared of the bear. The owner of the bear told George the bear was trying to tell him something and I thought that was very weird. My favorite character was Nancy because she is very serious and solves mysteries. I like to solve mysteries too. This book is in a series. This book is like Nate the Great when he solves mysteries. It's similar because it's talking about the same ideas.
I recommend this book to people who like mysteries and who like to solve mysteries. This book can be read by third grade and up. You should read this book.