Arthur Writes a Story
Written by Marc Brown
Illustrated by Marc Brown
Reviewed by DD (age 9)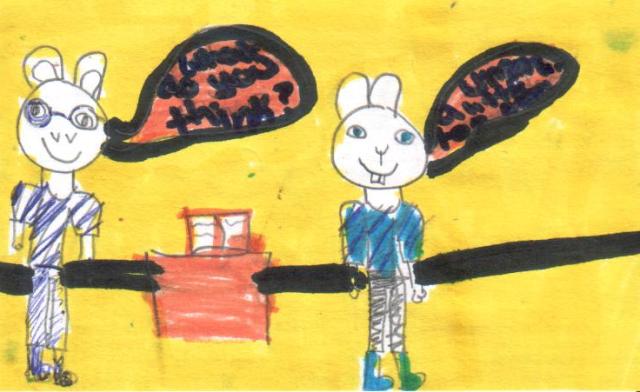 This story is about Arthur who has to write a creative story. As soon as Arthur gets home he starts writing his story about when he got his puppy Pal. The story ends up being boring when D.W explains to Arthur that the main topic has to be something in real life. D.W suggests that she'd make a story about her getting an elephant. The next day, Arthur asks Buster his opinion about his new story. Buster disagrees and suggests his story should be about outer space. Arthur goes home that day and reads his story to his family member. The story turns out too long and not so good. Arthur starts worrying because the next day his presentation is due. At the end Arthur changes his story and combines everything he learned that week to a wonderful story that everybody loved!
What I liked is that the author made the pictures tell what was happening. The author also used descriptive words which made me understand more the story. I liked how the author uses different creative ideas from Arthur's friends. What is so true is that I have to write just like Arthur in my school and I have to listen to what my friends say about my writing. Just like it does for Arthur that makes my stories better.
I recommend this book to people who love writing stories like The Best Story. I also recommend this book to people who like fun and super amazing books.