Arthur Writes a Story
Written by Marc Brown
Illustrated by Marc Brown
Reviewed by DV (age 11)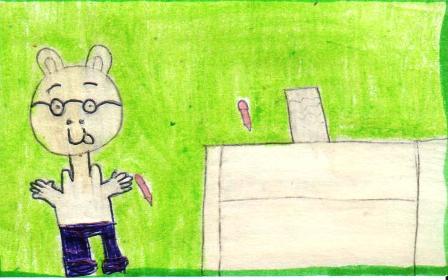 Mr. Ratburn told his class that they could write about something that is important to them. When Arthur got home he started to write about how he got his dog Pal. When he finish writing his story he went to go read it to D.W.. D.W. said if the story had to be real life because his story was boring. Arthur asks D.W. what he should write about and she told him that he should add elephants in his writing. The next day at school Arthur read his book to Buster. Arthur told Buster if his story was cool enough. Busters reply that his story should take place on the moon. On Wednesday Arthur read his newest story to Brain. Brain told him that he should write about well researched said Brain. Keep reading to see if Arthur would write the story with all the ideas that his friends gave him.
My favorite part was when Arthur had a really crazy imagination about his story. The reason I like that part was because he made a dance for that part and it was a funny dance. My other favorite part was when elephants were flying on the moon. I like that part because elephants can't fly on moons and I was also laughing because the elephants were colored purple. In my opinion, the author helps the reader because he uses strong words that are easy to understand. D.W. was my favorite character because she was helpful to her brother, Arthur, and gave him opinions about his story. We do that in our classroom!
I recommend this book to students that are first grade level through second grade level reading. This book is a really fun book also if you love reading fun books I recommend this book to anybody if they enjoy comedy books.