Ramona Quimby, Age 8
Written by Beverly Cleary
Illustrated by Alan Tiegreen
Reviewed by Danny J. (age 9)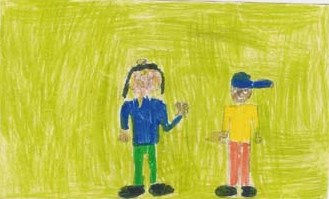 Do you like realistic fiction books? Here is a good one with several problems. Ramona had some bothersome problems with a boy called Danny (Yard Ape). On her first day of school on the bus Yard Ape took her eraser and lied to Ramona, but she knew it was him and he did that just for fun. Ramona had embarrassing times like when she threw up in front everyone in her class!
My favorite part was when Ramona smashed an egg on her head and had an awful day all because her mom forgot to cook it. This was my favorite part because it was shocking, funny and kind of sad. I thought that the book had some sad, angry and delightful parts. Ramona reminds me of my friend because he had many problems and similar feelings like when a bee stung him it was so awful that he ran to his to house badly crying. Some of my friends were bothersome to him and hurt his feelings like Yard Ape did to Ramona.
I would recommend this book to kids in grade 3 and 4.This book has tricky vocabulary and needs a bit of work to understand it.