Ramona Quimby, Age 8
Written by Beverly Cleary
Illustrated by Alan Tiegreen
Reviewed by Abdullah S. (age 9)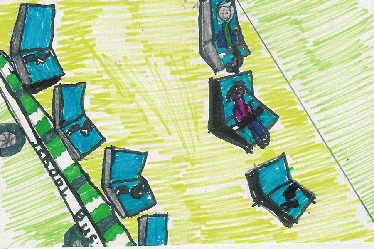 In this book, Ramona had a hard time. She had a hard time at Mrs. Kemp's house because of Willa Jean. She had a hard time when some accidents happened at school. She had trouble with everything including Beezus, Mr. and Mrs. Quimby, and Danny, known as Yard Ape. Ramona is 8 years old, in 3rd grade, and likes to ride buses on her own.
My favorite part was when her teacher called her names, because it went on for almost the whole book. My other favorite part was when Ramona had an accident with her hair, because it was so funny and it's a hilarious book! And my final favorite part was when she had a HUGE accident in front of the whole class, because it was so interesting and weird. Ramona reminds me of Junie B. Jones because they both make mistakes very often and both are very clumsy. I like this book because it's unlike any other book I've read because Ramona is the narrator and you never know what Ramona will do next.
I give this book a rating 10/10 because it has lots of good word choices like "an old man with neatly trimmed grey hair and a moustache that turned up at the ends." I would recommend this book to 3rd grade boys and girls and people who have a very hard time in their lives and who like to read funny books, so pick up this book and start reading!