Holes
Written by Louis Sachar
Reviewed by Eliana S. (age 11)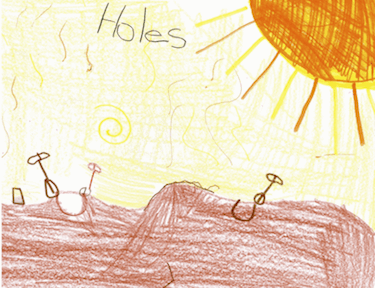 Holes is about a boy named Stanley. He has a curse on him. He gets sent to Camp Green Lake. There he meets very interesting people. At Camp Green Lake he has to dig five feet deep holes for punishment, but he finds something. What could it be?
My favorite part was when Stanley finds something with his friend. His friend was named Zero because he never really said anything. I think that might be your favorite part too, if you read it.
Once I tried to dig a deep hole. It was hard work. I hated it! I bet you would too.
I don't think Stanley is like me at all. He is too shy to be like me.
I thought this book was funny, exciting and interesting. Stanley's friends' names were funny. One of the names was Zero. My favorite part was the end, but I won't tell you about it because I want you to read the book.
I would recommend this book if you like mystery books. I love this book and you will too!