Harry Potter and the Chamber of Secrets
Written by J.K. Rowling
Illustrated by Mary Grandpre
Reviewed by Lilah R. (age 9)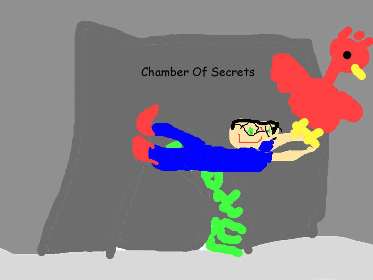 This awesome book is about Harry Potter's second year at the magical school of Hogwarts. In the beginning Harry is locked in his room because his Uncle Vernon has a dinner with important clients. The clients do not know about Harry and Uncle Vernon likes it that way. When Harry goes up to his room there is a house elf named Dobby in it. Dobby hits himself every time he talks bad about his owners. He tells Harry not to go back to Hogwarts because there are awful things that are about to happen. Harry says he has to go back to Hogwarts because Hogwarts is his home. Then Dobby rushes down the stairs and snaps his fingers. Aunt Petunia's pudding-cake floats up in the air. Then he goes into the other room and snaps twice. The cake drops and Dobby disappears. In this book Harry meets Tom Riddle and Moaning Myrtle. He has some strange encounters with these two characters. Read this book to find out if Harry gets into any trouble.
I really love this book because it is funny yet scary. My favorite part in this Book is when Gilroy Lockhart gets beat in the Dueling Club by Snape. Gilroy says he will block the spell but he didn't. My favorite character is Lockhart because he is super dumb and hilarious. This book is one of my favorite Harry Potter books because it is really exciting when he meets the young Voldemort. This book is the only one in the series when Harry meets young Voldemort in person. It gets tense and scary when Harry is in the Chamber of Secrets. I hope you read magical books.
I would recommend this book for people who love Harry Potter and/or Percy Jackson because they both have magic. Both book series also have mythical creatures. This book would please readers from grades 2-12 because I don't think the younger grades would understand this book.