The Magic Tree House: Abe Lincoln at Last!
Written by Mary Pope
Reviewed by Ben S. (age 8)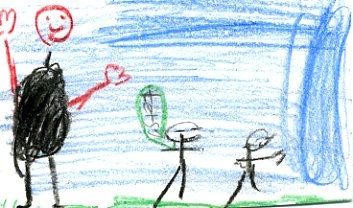 Jack and Annie travel to the time of Abe Lincoln. They do this with magic power from Merlin the Magician. A research book is open when they get to the tree house and they point to the picture of Abe Lincoln and they wish to go there. The book travels with them back in time.
The story starts in 1861 when Abe Lincoln was a child. Jack and Annie have to get a quill pen from when Lincoln was a little boy. Abe gives Jack and Annie the quill pen and they write a message to Abe in Jack's notebook telling him about slavery that he will soon get rid of.
My favorite part of the story was when Jack and Annie had to do Abe's chores. I like this part because they were not good at doing chores like splitting wood, milking the cow, or going to the spring to get water. They couldn't do these chores because they have never lived on on a farm.
This story is like the other Magic Tree House stories because Jack and Annie get to travel back in time by opening a book and wishing they would go to the place they see. I have also read Christmas in Camelot, The Summer of the Sea Serpent, Winter of the Ice Wizard, and Dragon of the Red Dawn.
I would like to be friends with Abe Lincoln because he didn't like slavery. Also, he like playing tricks on people.
I think that all grades would like to read this book because it is exciting, very adventurous and has a lot of details.