The Magic Tree House: The Night of the Ninja
Written by Mary Pope Osborn
Illustrated by Sal Murdocca
Reviewed by Ahiri V. (age 7)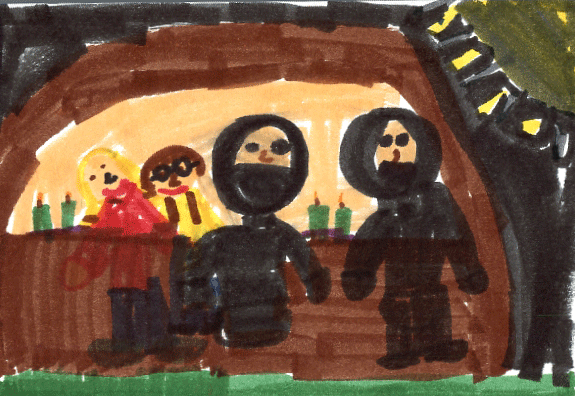 This adventure is about Jack and Annie who go to Ancient Japan to find four things because Morgan is in trouble. But when a samurai tries to get the ninjas it's up to Jack and Annie to save the ninjas. They are in trouble and left all alone. So they hide from the samurai behind a rock. Read to find out if the samurai can get them.
I can connect to Annie because I am adventurous at home like Annie. I can connect to Jack because I like to write down information and write notes like Jack. I like the illustrations in this book because it helps me understand what they're doing. My favorite part is when the woman ninja carries Annie on her shoulders because it reminds me of when my dad carries me on his shoulders. I like the book because it's funny. One funny part is when they go into the cold water because they shiver. They don't ever want to go back in the river. This book is part of the Magic Tree House series. It's different from the other books because it's the only one with ninjas.
I would recommend people who love to read chapter books to read this book.