Judy Moody Declares Independence
Written by Megan McDonald
Reviewed by Kavyaa P. (age 8)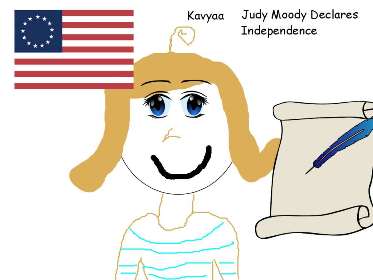 Judy was in Boston, Massachusetts. When she went on the ship where the Boston tea party was she met a girl from England named Tori. When Judy went home she made her own Declaration of Independence. Will Judy's parents let her have independence? Find out by reading this book.
I like this book because it was very interesting. I thought it was interesting that she wrote her own Declaration of Independence to her parents. I think it would be funny to give your parents a Declaration and see what they say to you. My favorite part was when Judy did her report as a play. I liked this part because it was very funny. The illustrations were neat. This book is part of a series. It is very simmilar to the other books in the series because it has the same characters.
I would recommend this book to 3rd and 4th graders. You will be crack up when you read this book.