Big Nate Strikes Again
Written by Lincoln Pierce
Reviewed by Nithin J. (age 9)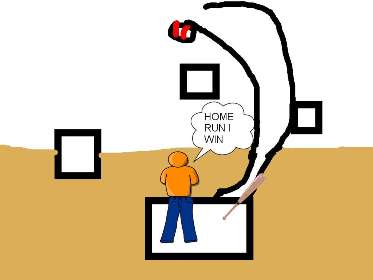 Big Nate Strikes Again is about a boy named Nate Wright. His teacher, Mrs. Godfrey gives him a Social Studies project and was assigned Gina as his partner. Gina was Nate's ultimate arch enemy. Nate is team captain on his Fleece ball team. He didn't want Gina on his team because it was her fault that Nate's team lost the first game. Gina doesn't want Nate's comics in the project Ms. Godfrey assigned. They both came to an agreement. Gina wouldn't play the fleece ball finals provided that Nate doesn't put his comics in the Social Studies project. Ms.Godfrey doesn't accept Gina's writing and accepts Nate's comics. In Fleece ball, Nate's foot gets busted by the opposing team's captain, the school bully, Randy. Gina fills in for him. Will Gina make the winning homerun or will the school bully beat Nate's team big time?
This book is a really good book because I like the pictures and how Lincoln Pierce wrote the story. My favorite part of the book was when Nate's arch enemy, Gina, went to detention because she has NEVER been to detention. I liked the way the author changed text to comics often, which keeps the reader involved and interested in the story. Lincoln Pierce uses a lot of visual clues in the pictures to make it more interesting. My favorite character is obviously Nate because he is always up to something. Just like me! When I first read this book I felt I would not put the book down until I finished.
I highly recommend this book to readers who enjoy reading comic books. If you like funny stories, I recommend you to read other books in the Big Nate series. Which include Big Nate On a Roll and Big Nate In Class By Himself. This book is for both boys and girls. I hope you'll enjoy this book if you read it.