Mr. Sunny is Funny
Written by Dan Gutman
Illustrated by Jim Pailllot
Reviewed by Shreeya R. (age 8)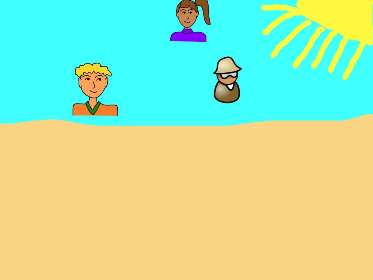 School is over! A.J.'s parents rented a beach house. But Andrea is coming too. No! The lifeguard, Mr. Sunny is making a sand castle so he can go to France and study. He entered a contest and if he wins he gets to go to France to study art. But Mr. Garnite ruined it. Guess who Andrea falls in love with? And guess where Mr. Granite is going to teach?
My favorite part was when Andrea wanted to kiss someone because she loves them. The illustrations are funny because they looked really good. The colors in the pictures are odd and that makes them funny. This book reminds of the time I went to the beach and my brother told me a story about a fish that eats you. A.J. is my favorite character because he hates Andrea. He always says mean stuff to her and this reminds me of my brother.
You should get this book because it's really funny and silly. You will like it just as much as I did. Students in third and fourth grade would like this book because it was written on their level.