Percy Jackson and the Olympians The Lightning Thief
Written by Rick Riordan
Reviewed by Mythri M. (age 9)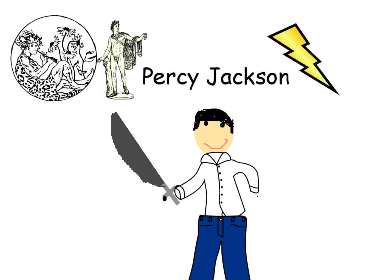 In the beginning, Percy is at a boarding school. The name of his boarding school is Yancy Acadamy. They are on a field trip at a museum. A strange teacher asks him to come into a room. Percy blinks and suddenly his teacher, Mrs. Dodds, turns into a giant bat like creature with sharp claws. His other teacher, who is in a wheel chair, comes in with Percy's best friend, Grover. The teacher in the wheel chair makes the creature go away. Then he gets sent to a camp and wonders why. You should read this book to find out why he was sent to the camp.
My favorite part in the book is when Percy goes on a dangerous quest. He must find something very important. If he doesn't succeed it will cause a war bigger than all previous wars combined. My favorite character is Percy, the main character, because he is really good at fighting the monsters. A lot in the book seems like fiction, but the book is based on Greek Mythology. This book is in a series. There are five books in the series. I like the writing style of Rick Riordan because he always describes everything and that helps me understand the story.
I would recommend this book to anybody who likes chapter books with no pictures. Students in third, fourth and fifth grade would like this book the characters and setting are about mythology and that is very interesting.