American Chillers Oklahoma Outbreak
Written by Jonathan Rand
Reviewed by Aaron M. (age 11)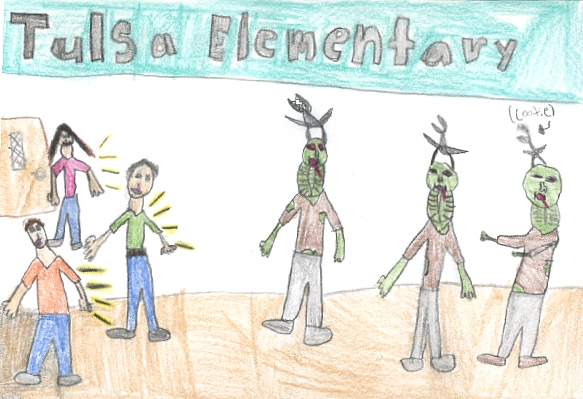 American Chillers Oklahoma Outbreak takes place in Tulsa, Oklahoma. Three children from the book live there - Tricia, Carlos, and Tommy. They get in some trouble when Tommy makes an innocent joke that girls have cooties.
The students did not believe him. Were they wrong? Tricia, Carlos, and Tommy find out that cooties actually exist. In fact, the cooties are black tiny bugs trying to bite people and turn them into blood sucking zombies. Will Tommy, Tricia, and Carlos be able to get out of this mess, or will they be BLOOD THIRSTY ZOMBIES?
I predicted that Carlos, Tommy, and Tricia would become blood thirsty zombies. You can read the book to find out if I was right or wrong. When I started reading, I didn't want to stop reading this horrifying book.
I liked this books so much because before each chapter begins there is a surprise. For example, Carlos got trapped in the office and you would not know what would happen to him unless you read on.
My favorite part of the book was when Tricia, Carlos, and Tommy got trapped inside the school. The zombies were chasing them and the characters tried to open doors and break windows to escape.
I liked Carlos the best because he seemed to find out how to get out of some spots and knew what to do at the right time.
I did not feel scared when I read the book, but younger readers might be a little bit scared when Carlos gets trapped in the office and the zombies come.
I recommend Oklahoma Outbreak to 5th and 6th grade students because they will like the creativity. I think boys would like the book more because maybe they would like the mysterious parts.
Be careful… watch out for the surprise ending, too!