Black Beauty
Written by Anna Sewell
Illustrated by Anna Sewell
Reviewed by Lillian L. (age 10)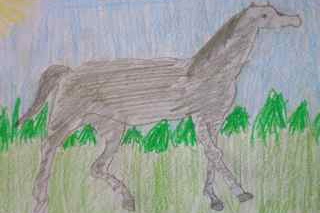 Black Beauty is a book about a courageous ebony horse named Black Beauty. He has gone through many tough and enjoyable adventures. Black Beauty is a strong and a smart horse that always obeys his master, except when he senses trouble or is being mistreated by a drunkard.
I love this book because it embraces all emotions and feelings. My favorite part is when he is a baby and learns how to be a strong and obedient horse. I think Anna Sewell is a great author who made a fantastic choice to write a book about a well-behaved horse named Black Beauty.
In the auction scenes it reminded me of when I had to give away my dog because he wasn't obeying. It was a sad thing, but I knew it was the right thing to do. Some of the people in the book probably felt the same way.
I recommend this book to anyone with a positive attitude because it tells about a cheerful horse's life and different people. I know you will definitely enjoy this fascinating book.
I also recommend Black Stallion and Blackie the Horse who Stood Still for the ages from 6 to 15.