Maya the Harp Fairy
Written by Daisy Meadows
Illustrated by Daisy Meadows
Reviewed by April T. (age 7)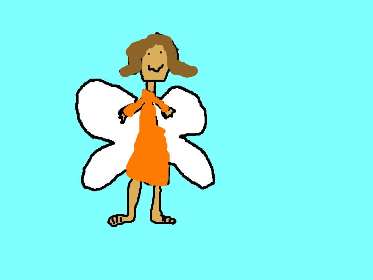 Kristy and Rachel are going to Kerry's wedding at the Wetherbury Hotel, but when they were putting the presents away they heard some horrible music. The horrible music came from a woman in a long, silky, pink dress playing a harp that was out of tune. Rachel had a brown bag full of pink confetti to scatter onto the tables. The bag was very tight, so Rachel pulled on it a lot. The bag burst open and out flew Maya the harp fairy. Maya told Rachel and Kristy that she felt the harp somewhere nearby. Rachel said, "let's start looking right now." Kristy shook her head and said, "No, we're supposed to scatter the confetti onto the table." Then Maya said, "No problem." She waved her wand and the confetti bags fluttered in the air, then they popped open and the confetti scattered all over the tables. "Now let's go", said Maya. They went to the front of the hotel. There were a lot of people there and there was some pretty harp music playing. "That's my harp" gasped Maya! Read the book and find out if Maya ever finds her harp.
When I was reading the book, I felt excited. The book was exciting because when Maya's harp turned very small, the goblins were fighting over the little harp. They were fighting so much, that it flew in the air and dropped onto the top layer of the cake. This book is part of a seven book series. I thought the pictures were really detailed.
I would recommend this book to second graders. Second grade girls would like this book because many of them like magic and faires. Readers will find the story interesting because it has a lot of adventure in it.