The Shetland Sheepdog
Written by Charlotte Cox
Illustrated by Charlotte Will Cox
Reviewed by Andrea P. (age 8)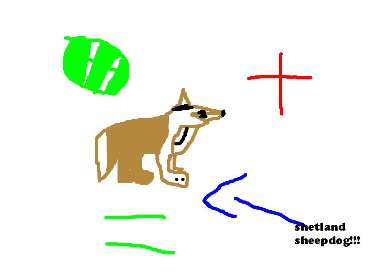 Shetland Sheepdogs are dogs with long hair. That means you have to brush it everyday, at least twice. If you get a LIGHT head they can't be in dog shows. I bet if I had a sheepdog it would be a good farm dog. Shetland sheepdogs also have health problems and allergies. Read this book for more information about Shetland Sheepdogs.
This book is really educational about Shetland Sheepdogs. In the book you can hear about stories of HERO DOGS. This a series of this books and each one is about a different type of dog breed from the Chihuahua to the Great Dane. These books also tell you if a dog has a close relative. The last page tells you about the dogs body parts.
I say that 3rd grade through 5th grade students should read this book because they may want to use it on a science project. They also may want to be a dog trainer. Pre-Kindergarten through second grade don't really need these books for school, but maybe they can read it for fun. Kids will like this book to discover things that they never knew. This book can make children experts on dogs.