The Twits
Written by Roald Dahl
Reviewed by John P. (age 10)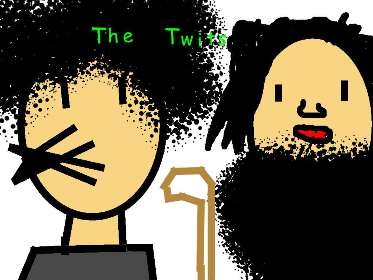 The Twits is a fiction book. There were these two nasty people in the book. One was Mrs. Twit and the other was Mr. Twit. They were horrifying people. Mrs. Twit had a glass eye and would hit people with her stick. She was the nastiest of the nastiest people. And on the other hand we have Mr. Twit, He never showered or even cleaned his beard. There were sardines and some spaghetti and even macaroni and cheese in his beard. The Twits would do really nasty things to each other. One day Mrs. Twit put her glass eye in Mr. Twits beer jug. When he was drinking he found the eye and screamed. Read this book to find out what other nasty pranks they do to each other.
I like this book because it's really funny and it's the best prankster book of all. I feel like I am going to laugh every time they do a prank on each other. Also my favorite part was when Mr. Twit put a frog in Mrs. Twit's bed. My favorite character is Mr. Twit because he plays lots of pranks on Mrs. Twit and they made me laugh. This book does not have a series, but Ronald Dahl wrote lots of books like Charlie and the Chocolate Factory. If you like this book try to read his other books.
I would recommend this book for 3rd and 4th grade students. Also for the readers who like doing pranks on each other. When I become an adult I hope to not be one of the Twits.