Trapped
Written by Peg Kehret
Reviewed by Aidan M. (age 9)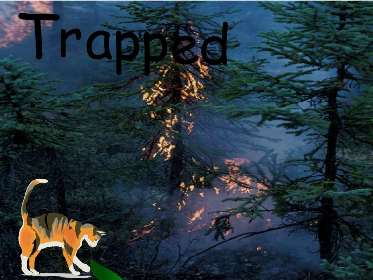 In the beginning of the book Alex, Pete's owner, sees a man speeding on a road. The man man takes a sharp turn a hog flies out of his pick up truck. Alex takes the hog home and makes a small pig pen in Mary's backyard. Mary is Alex's neighbor. The Hogman wants his hog back and he fights with Pete to get him back. Pete and the Hogman also fight for animal pelts. The Hogman swore and struggled into position. Pete bit the Hogman's wrist. Then, Pete clawed the Hogman again and again. The Hogman tried to keep Pete still while trying to aim the barbaric firearm at Pete's head. Pete's foot came down on the trigger. The gunshot exploded through the forest. Please read the book to find out what happens during the hogman and Pete's struggle over the animal pelts and the pig!
I love this book because every chapter makes you cringe in suspense. I don't have a favorite part. Everything is perfect. This is unlike any other book I've ever read. Peg Kehret's style is like "You don't get your happy ending until the end." It is part of a series co-written by Pete the cat. I feel tenser and tenser every chapter. Peg makes mysteries heaven.
I recommend this book to you mystery lovers out there! Third, fourth, fifth graders and beyond would not push this book away.