Dolphin Tale
Written by reyes Gabrielle
Illustrated by Gabrielle Reyes
Reviewed by Divya K. (age 8)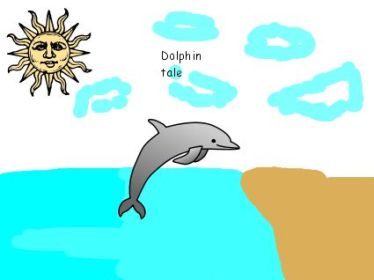 One morning Sawyer spots a creature thrashing on the beach. As he approaches the beach, he sees that this creature is actually a bottlenose dolphin! The dolphin's tail has been damaged by a crab trap and it's up to Sawyer to save his new friend. Can Winter and Sawyer's friendship make a mircale happen? Read this book to see what happens to Winter.
My favorite part of the book was when Winter squirted water at Sawyer. Sawyer said, "Stop it," but Winter kept on doing it. Then Sawyer and Winter played throughout the night. This story reminds me of a dolphin keychain I used to have. It was really special to me. My brother was the one who found it. When I read this book I feel happy and sad because Winter's tail was trapped and they fixed it.
I loved reading this book. I recommend this book to the people who are interested in dolphins and friendship. I recommed this book to 3rd, 4th, and 5th grade students.