Nancy Drew and the Clue Crew TimeThief
Written by Carolyn Keene
Illustrated by Macky Pamintuan
Reviewed by Kavyaa P. (age 8)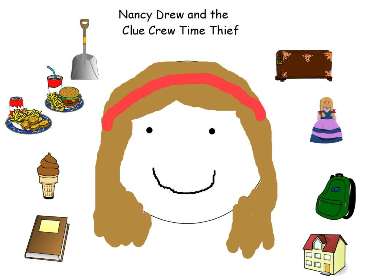 This story is about when Nancy and her school digs up a time caspule from thirty years ago. A toy went missing in the time caspule called a Margie girl. The time capsule was done by all of the students that went to Nancy's school thiry years ago. They questioned Antonio about the missing doll. They also thought it was a fifth grader who took the doll. Nancy and her friends thought that the doll was taken after the time capsule was completed and before it was opened. There was a diary that helped them solve the mystery. Will Nancy and her friends solve the mystery before its to late? Find out by reading this book.
The lesson of this story is to tell the truth and not lie. The illustrations in the book were very neat. My favorite part was when Nancy, Bess and George were acting very rich. I liked this part because they were speaking in a funny accent. This book is part of a series called Nancy Drew and the Clue Crew. It is very similar to the books in the series because it has the same characters. I wonder what it was like in Nancy`s school.
I recommend this book to all the people who like mysteries and Nancy Drew books. Students in grades three through six would enjoy this book. Both girls and boys would like this book.