Dork Diaries:Tales From a Not So Popular Party Girl
Written by Rachel Renee Russell
Reviewed by Andrea P. (age 8)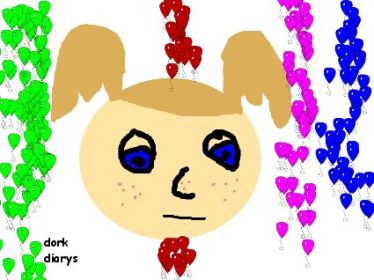 This book is about Nikki and her friends. Nikki's crush asked her to go to the dance but Mackenzie, Nikki's enemy, stopped the dance. Mackenzie stopped the dance because Mackenzie wanted to dance with Brandon. As the student body president Mackenzie had the power to cancel the dance. Nikki and her friends are trying to keep the dance from being canceled. Read the book to figure out if the dance is back on.
I liked this book because it is really exciting and mysterious, since Nikki did not know that the dance was canceled at first. This book is really funny and I like the series. There are 4 books in the series. It is a good book to read at school too because you can read it when you are done with your school work.
I say third graders should read this book beacause it has interesting words. For example, they used the word faux for fake. It also has good illustrations. The illustations are good because they look like they are actual drawings. It is interesting when the characters yell out loud because the words are big and bold. This book reminds me of me writing in my journal because I also write my words big and bold.