43 Old Cemetary Road: Dying to Meet You
Written by Kate Klise
Illustrated by M. Sarah Klise
Reviewed by Lexi R. (age 9) & Emma C. (age 8)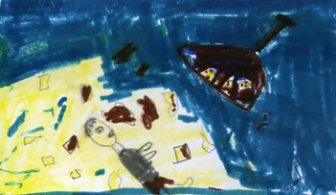 This book has a scary title because it's about a ghost and a little boy who live in a mansion on 43 Old Cemetary Road! The 11 year old boy is named Seymour. Seymour's parents took a trip to Europe and left him behind, with only the ghost in the house. They live happily together until Ignatius B. Grumply moves in. Mr. Grumply says he needs peace and quiet to write his thirteenth Ghost Tamer book. Olive the ghost (whom he doesn't believe in) keeps interrupting him and Mr. Grumply is starting to become grumply. What will happen?
In the book the characters write letters back and forth to each other and that makes it even more interesting to read!
Our favorite part was when Olive dropped a chandelier on Mr. Grumply's head. We liked it because it was really funny because he fell on his backside. Our favorite character is Seymor. He is our favorite character because he wants to be a famous artist, just like we do
I think third and second graders would like this funny book, especially if you like to read funny, chapter books.
P.S. We also think its cool that the author and illustrator are sisters.