Junie B. First Grader Aloha-Ha-Ha
Written by Barbara Park
Illustrated by Denise Brunkus
Reviewed by Lauren V. (age 7)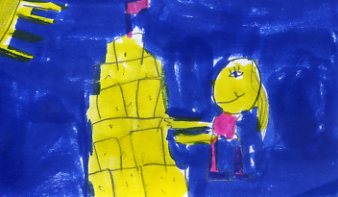 In this story, Junie B. goes on vacation to Hawaii with her parents. She was so excited to go swimming that she ran right to the pool. She had to wear a swimmie because she couldn't swim. When she comes out of the pool, the swimmie is way too tight and won't come off!
My favorite part of this book is when she screamed that she couldn't get the swimmie off. I thought this was so funny because I wondered if it would ever come off. This book is different from the other Junie B. Jones books because there is so much screaming in the book because she screams when she is excited or mad. In this book she is very excited and very mad a lot.
I have read almost all of the Junie B. Jones' books and it is one of my favorites. If you have never read a book in this series you should start with this one because it is one of the funniest Junie B. Jones' books I have ever read in my life!